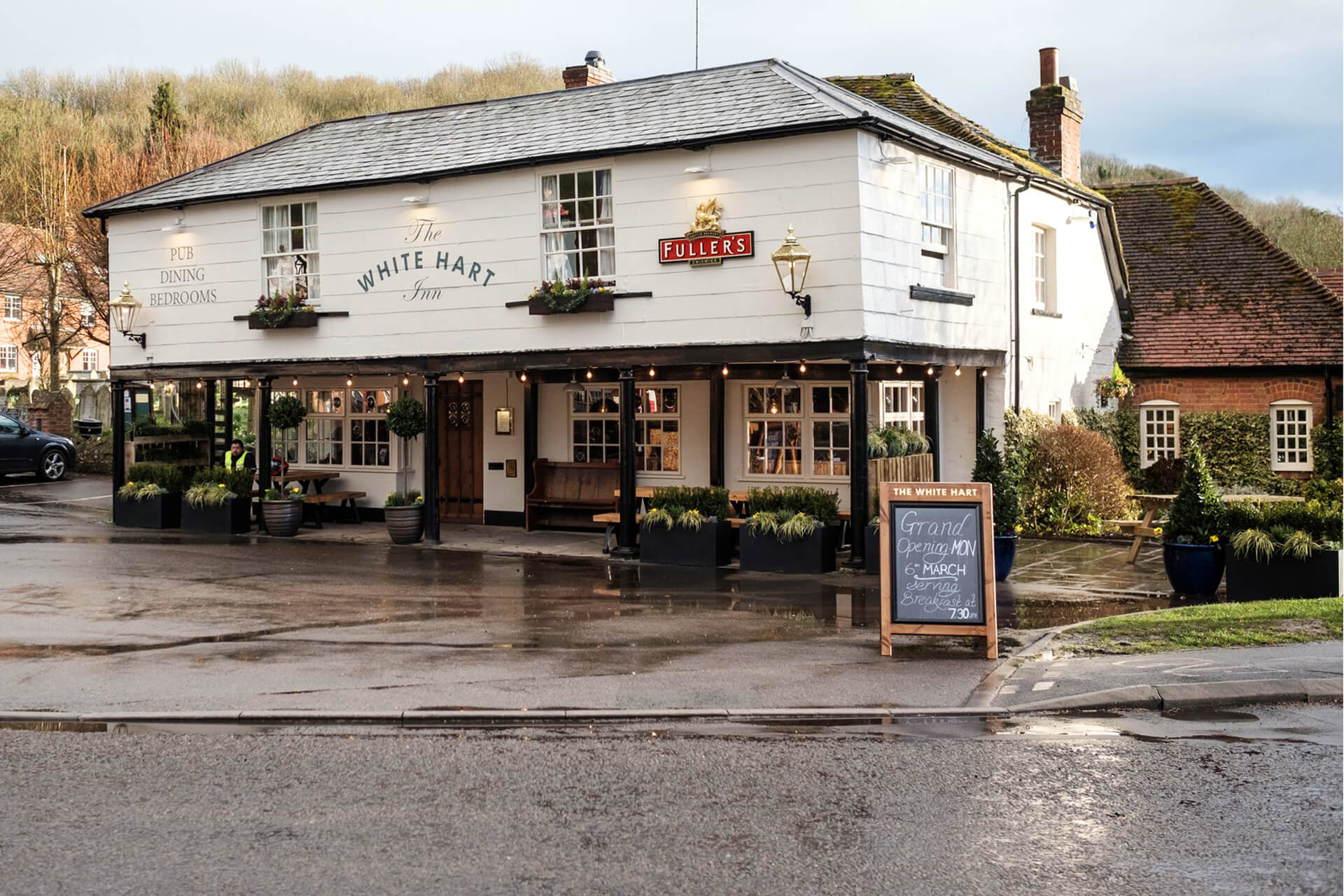 The White Hart in Stockbridge, Hampshire, has been welcoming guests since the 16th century. With a picture-perfect exterior and plush bedrooms inside, our award-winning pub maintains an elegant vintage feel that welcomes guests from the moment they set foot inside.
Eating and drinking
Our food menu is a reflection of our area's rich hunting and fishing heritage. Our kitchen motto at Fuller's is, 'Every dish is a signature dish,' and that means we'll do everything we can to ensure your meal is a special one.
Our small plates and sharers are ideal for nibbling with a pint of ale, or sharing with friends. Vegetarians and vegans are catered for with creative dishes packed with flavour. Add hearty Sunday roast lunches with all the trimmings and our great-value lunch menu, and we've got dishes to suit every appetite.
Order a drink from the bar, and you'll find a wide range of lagers and Fuller's finest ales available to quench your thirst, as well as international imports. We also offer cider, soft drinks and an impressive list of wines, alongside premium spirits and classic cocktails.
If you're holding a special event, our private function rooms offer seclusion from the rest of the hotel, whatever your needs. Contact us for more information, and to make a booking.
Stay at The White Hart
Looking for boutique accommodation in Stockbridge? With 24 Beautiful Bedrooms by Fuller's on offer, we've got the right room for you, whether you're seeking a quiet getaway or romantic mini break, or enjoying a family holiday.
Choose from our Indulgence rooms, which boast luxury en-suite showers, Egyptian linen sheets on a king-size bed, plump pillows and a fluffy bathrobe with matching slippers. Or try one of our Comfy Super King or Twin rooms, which also offer an extra touch of luxury, and where you can enjoy flat screen televisions, DAB Bluetooth digital radios, free WiFi and 1600-spring mattresses.